One – Human Interest

From the ACLJ:
Our urgent deadline to defend dying Christians is midnight [August 31].
Today we have a major announcement. In just hours, we're filing a massive federal lawsuit against the Obama Administration over its inaction on genocide.
Christians are being horrifically slaughtered. They are being burned alive and crucified for their faith. Christian women are enslaved, children beheaded. Christians are pleading for help, "No one cares about us like we are not human."
This wretched evil is unthinkable. It must be stopped.
We've expanded our largest global legal advocacy effort for Christians facing genocide. We've forced the Administration to acknowledge the "genocide against Christians." But it's refusing to act.
We won't sit by as Christians die. Today, we're filing a massive federal lawsuit against the Obama Administration. It could force the Administration into action.      Please read here.
View the World Watch List for Christian persecution around the world: https://www.opendoorsusa.org/christian-persecution/world-watch-list/
Two – Health
Reduce Fever
Sip linden flower tea, which works in two ways: It stimulates the hypothalamus to better control your temperature, and it dilates blood vessels, inducing sweating. Steep 1 tablespoon of dried herb (available in health food stores) in a cup of hot water for 15 minutes, then sip. Drink three to four cups a day. If you still run hot after a day of sipping tea, seek medical attention.
For a high fever (above 102°F), take a tepid bath, which simply cools the body to match the water temperature. Bathe until your temperature decreases to 101° to 102°F, then sip linden flower tea to lower it even more.
–Expert: Eric Yarnell, ND
http://www.prevention.com/health/natural-home-remedies/slide/6
Three – Recipe
3- Ingredient Crunchy French  Onion Chicken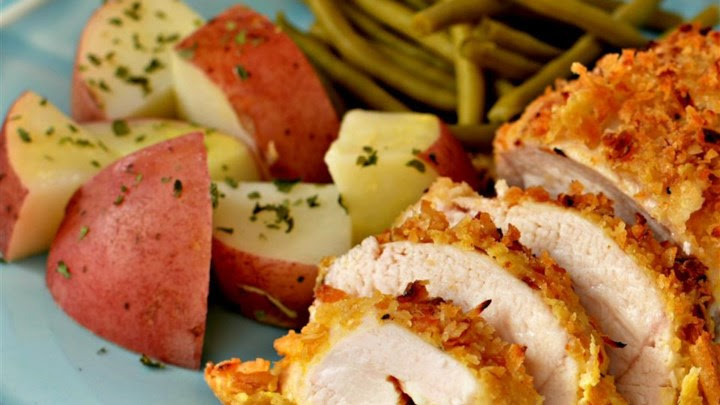 1 pound skinless, boneless chicken breast halves
1 1/3 c. French-fried onions, crushed
1 egg, beaten
Preheat oven to 400 degrees F (200 degrees C).
Spread crushed onions in a shallow bowl. Pour beaten egg into a separate shallow bowl.
Dip chicken into beaten egg, then press into crushed onions. Gently tap chicken to let loose pieces fall away. Put breaded chicken to a baking sheet.
Bake chicken until no longer pink in the center and the juices run clear, about 20 minutes. An instant-read thermometer inserted into the center should read at least 165 degrees F (74 degrees C).
Four – Prep
Oven Canning
"Dried goods make great emergency food if stored properly. But it's no fun opening a box of pancake mix to find meal worms making a meal of your precious food (unless you like the extra protein). You can stock up on survival foods specially prepared to last for years, but it can get pretty pricey. If you want to save some dough and do it yourself, oven canning is the way to go. So let's get started on this simple and easy method of prepping your dried goods for long term storage.
"Oven canning works great for prepping dried goods to stay fresh for years. Baking them in the oven kills any insects or eggs to prevent contamination. As the jars cool, the lids will seal, preventing moisture or bugs from getting in and ruining your food. I haven't kept any of my oven canned goods long enough to test this, but some sites report that oven canned dry goods will last for 20 to 30 years. Heck, that's a pretty good time frame for those prepping for [the days ahead]!" For the how-to's, go here.
Five – Foundation
"Search me, O God, and know my heart;
Try me and know my anxious thoughts;
 "And see if there be any hurtful way in me,
And lead me in the everlasting way."
      Psalm 139: 23-24 (NASB)
Extra

[The health  information provided is not intended to be a substitute for professional medical advice. As health and nutrition research continuously evolves, we do not guarantee the accuracy, completeness, or timeliness of any information presented in this Website.]
Please ask permission/give attribution for anything taken from this Website. Thank you.

Deborah M. C. C. © 2006 – 2026
(I do not endorse ads appearing on this Website.)