One – Human Interest
Syria: 100,000 People Displaced in 8 Days
Veronica Neffinger | Editor, ChristianHeadlines.com | Thursday, September 08, 2016
---
"The conflict in Syria, which has caused unrest in the region for six years now, recently led to 100,000 people being displaced in the span of just eight days.
"According to Stream.org, government troops clashed with insurgents in Hama province, causing the massive displacement.
"The offensive was led by a hardline Islamic group called Jund al-Aqsa, but also involved factions from the Western-backed Free Syrian Army. The Syrian government forces responded by carrying out a bombing campaign that killed dozens of people.
"About half of the 100,000 displaced persons sought refuge in the rebel-held Idlib governorate. Many others reportedly sought refuge in the government-controlled Hama city, where four mosques had been converted into shelters.
"Many Syrians feared that the government would retaliate against the rebel offensive. Ahmad al-Ahmad, an activist from Hama, told The Associated Press through text message: 'Wherever the regime is driven out of an area, it ends up destroying it.'
"Since the start of the conflict in Syria, an estimated 11 million Syrians have been forced to flee their homes. About 4.8 million of these are refugees in other countries, while about 7 million are internally displaced."
It is unequivocally telling as to the true nature of the American political leaders when we see that 6,726 Syrian refugees were admitted to U.S.A. so far in 2016 (as of July 25)–but only 23 are Christians. Go here for the article.
Pray for these precious people!

cnsnews.com
View the World Watch List for Christian persecution around the world: https://www.opendoorsusa.org/christian-persecution/world-watch-list/
Two – Health
Many people suffer declining eyesight as they get older, but there may be something we can eat to improve it.
picture credit: photobucket.com
"A team in the United States devised a recipe for a daily smoothie for us that they hoped could supply a similar level of lutein and zeaxanthin. It was a heady mix of fruits and veg such as kale and kiwi fruit, along with fats such as milk and wheat germ oil which help the absorption of the key compounds.
"Twelve weeks later, I returned to City University to see whether my daily pill-popping had made any difference to my eyesight. The results surprised even Prof Barbur. There were significant improvements in several different aspects – my blue and yellow colour perception was back to normal and my night vision was much better. The levels of my protective macular pigments were also boosted.
"They found that boosting the diet with the three macular pigments – lutein, zeaxanthin and meso-zeaxanthin – led to significant improvements in the protection of the delicate macula, as well as improved eyesight."
To find out more, go here.
bbc.com
Three – Recipe
Slow Cooker 3-Ingredient Fiesta Chicken
Salsa Jar (16 oz)

1 Can of Campbell's Condensed Cheddar Soup

2.5 lbs Boneless Chicken
Add all three ingredients into your slow cooker. Stir periodically.
Cook in your slow cooker for about 4 hours on high or 6-8 hours on low.

Cutefetti.com
Top 9 Reasons for Dehydrating Food
"My [thesurvivalmom] food dehydrator has been working up a storm this past week as I've been transforming pounds and pounds of tomatoes and jars of applesauce into very, very dry versions of their former selves.  I love dehydrating foods, and here are just a few of the reasons why: "
Dehydrated fruits and veggies have intense, INTENSE! flavors!
It offers something different in the healthy snack category.
Something is always in season!
Food dehydration is simple!
Variety!
Dehydrated foods don't lose their nutritional value and maintain water soluble vitamins and minerals.
Dehydrate your own herbs and you'll never have to pay top dollar for them again nor watch them rot in the fridge.
If space is an issue, dehydrated foods are your friend!
You'll never have to run to the grocery store at the last minute for carrots or onions or potatoes or celery or green beans if you have jars of the dehydrated versions in your pantry.
To find out specifics, go here.
thesurvivalmom.com
ALWAYS KEEP PLENTY OF WATER ON HAND.
Five – Foundation
"Yet you do not know what your life will be like tomorrow. You are just a vapor that appears for a little while and then vanishes away. " James 4:4
"LORD, make me to know my end And what is the extent of my days; Let me know how transient I am." Psalm 39:4
Extra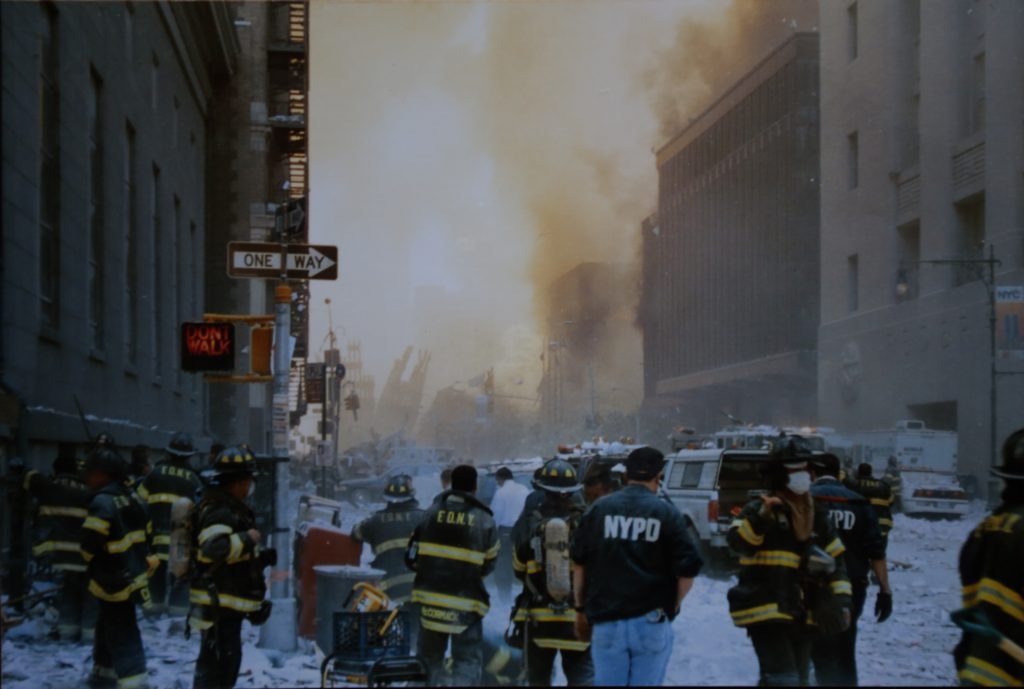 This is a first responder's picture of Ground Zero on 9/11/2001. (courtesy of pbs.org)
I have personal cause to thank God over and over because He spared my daughter in that tragedy.
She was late for work because of a Monday night Bible study (where she also met her future husband).
She ran through the black dust and chaos on the street and miraculously got to a phone booth to call and got through to us at home that she was OK, but that she'd "never seen people jumping out of windows before."
She stayed with friends in NJ for a while to get over the shock, and we were blessed to have her home for Christmas a few months later.
The truth is, we never know what a day/hour will bring forth, do we? With events today more volatile than ever, are you prepared to go into eternity forever with the choice you have made to either acknowledge or reject the Lord Jesus Christ?
Read  John 3.

[The health  information provided is not intended to be a substitute for professional medical advice.
As health andnutrition research continuously evolves,
we do not guarantee the accuracy, completeness, or timeliness of any other information presented in this Website.]
Please ask permission/give attribution for anything taken from this Website. Thank you.
Deborah M. C. C. © 2006 – 2026
(I do not necessarily endorse ads appearing on this Website.)